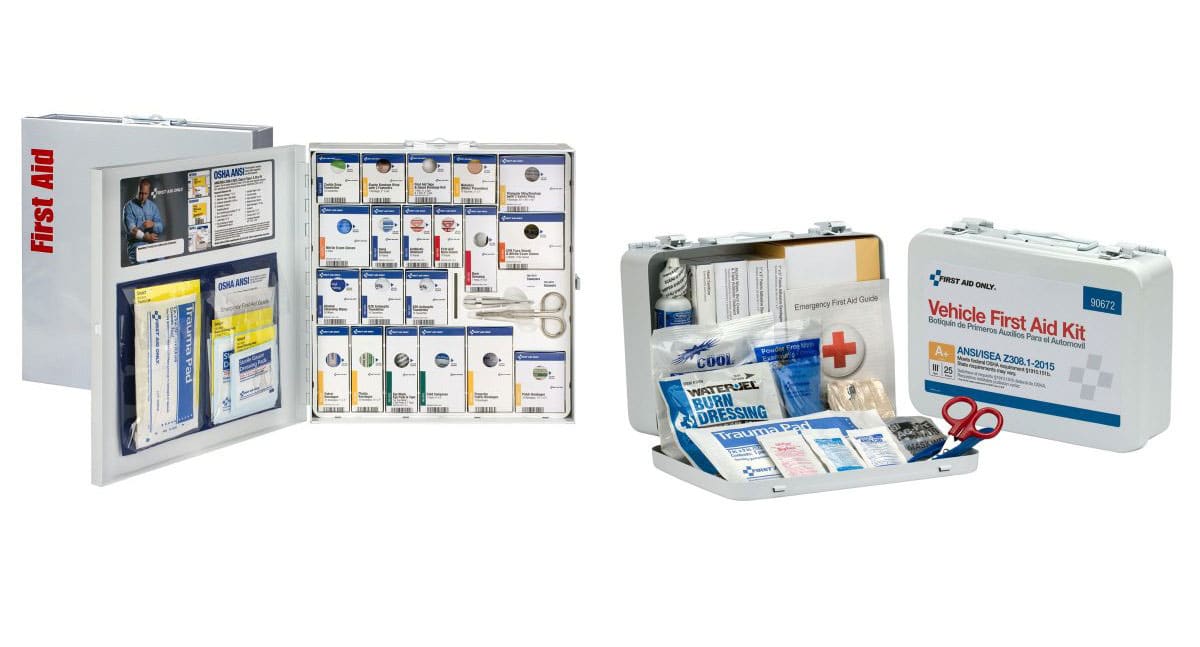 Wall-mounted First Aid Cabinets for workplaces and community facilities. Portable First Aid Kits for vehicles, outdoor, and on-the-go applications. Browse Marelly's hand-picked selection of the best products on the market and choose the one that's right for your needs.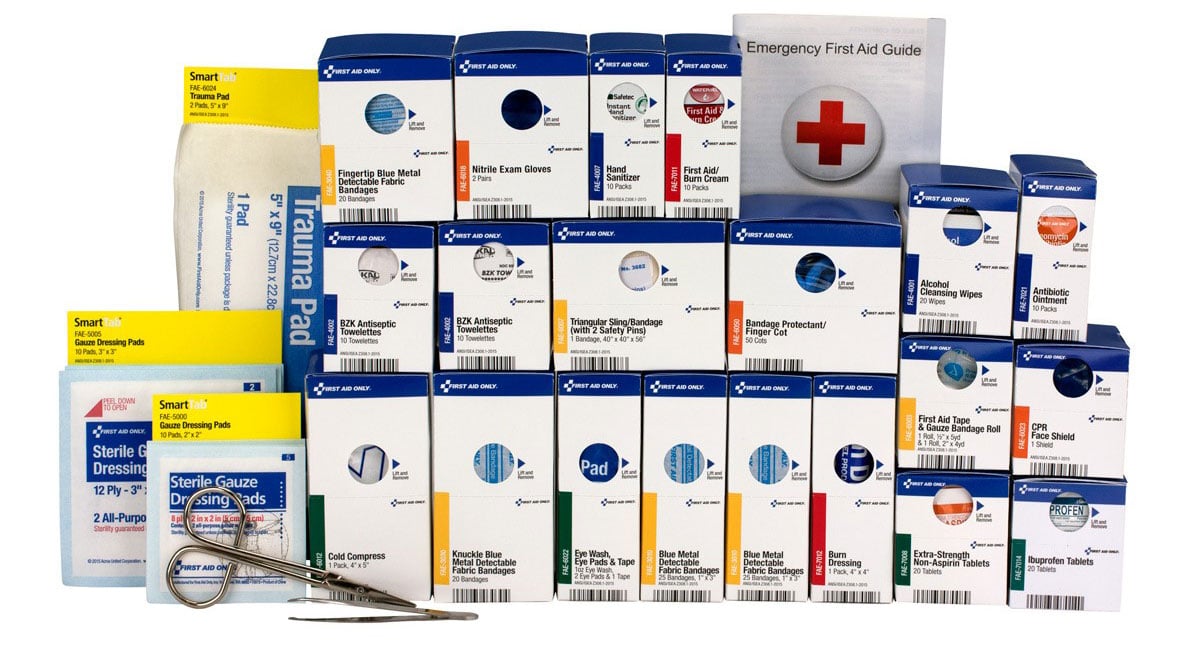 Keep your First Aid Kits and Cabinets stocked and compliant with First Aid Refill products. Marelly has you covered with bandages, gauze, wipes, tape, tools, medicines and much more, plus managed refill services to keep you-up-to date.
Try our line of SmartCompliance™ First Aid Cabinets help keep your first aid supplies organized, accessible and up to date while keeping your costs LOW. 
Innovative Cabinet Design

SmartTab™ ezRefill System

OSHA and ANSI Compliant

No Service Contracts

Complete Customization

NO MORE OVERSTUFFING by Commissioned Van Service Drivers

Pilferage Will Be Reduced

Up to 60% Cost Savings!

Peace of Mind
Smarter Design
The unique cabinet design eliminates disorganized and missing supplies, while the clearly labeled compartments create a cabinet that is easy to use and restock. The expansion pocket allows you to customize your plastic or metal cabinet to meet your specific needs.
Smarter Refills
As first aid supplies are used, your cabinet's SmartTab ezRefill reminder tabs will let you know when it's time to reorder. Reordering supplies is easy thanks to clearly labeled barcode boxes and an easy-to-use mobile app. It's almost effortless!
Smarter Compliance
Choose from a variety of SmartCompliance First Aid Cabinet versions to fit your needs and compliance requirements. SmartCompliance General Business Cabinets are designed to ANSI A+ compliant.
SmartCompliance First Aid Videos
What is SmartCompliance?

Watch to understand what SmartCompliance First Aid Cabinets are, how they work, and why they are redefining the business first aid industry. Must-see!
SmartCompliance Retrofit
Learn how to convert an existing First Aid cabinet to the benefits of SmartCompliance and reduce first aid costs by up to 50% over traditional van services.
First Aid Compliance for Your Industry
Having First Aid Kits or Cabinets at your place of business is a requirement for many businesses. Having an expensive, inflated van-based service isn't. Marelly can help you meet all your First Aid needs and regulatory requirements while saving money in the process.
Are first aid kits and cabinets required?
OSHA's requirement 1910.151(b) states that, "In the absence of an infirmary, clinic, or hospital in near proximity to the workplace which is used for the treatment of all injured employees, a person or persons shall be adequately trained to render first aid. Adequate first aid supplies shall be readily available." If you are still unsure about whether this requirement applies to you, please contact Marelly and we will help you determine your needs.
What should my kit or cabinet include?
To determine what to include in their first aid kits and cabinets in order to meet compliance, OSHA typically refers employers to standard ANSI/ISEA Z308.1-2015, which establishes minimum performance requirements for first aid kits and their supplies that are intended for use in various work environments. 
There are two categories of ANSI compliance kits depending on the type of workplace. Class A applies to common workplace environments and Class B applies to more complex, populated, or high-risk environments. ANSI/ISEA Z308.1-2015 outlines the supplies, quantities, sizes, and volumes required for both Class A and Class B compliance.
Who can I talk to about compliance concerns?
First aid compliance isn't easy, and it is completely normal to have questions. After all, it is much better to be safe than sorry. Marelly AEDs & First Aid offers services, training, and sales of compliant first aid products for a wide range of businesses. Call or contact us with your questions and concerns and you will speak with person who can help. Personal attention and old-fashioned customer service are what we are all about. We are happy to assist you.
Marelly AED's and First Aid has been my go to when it comes to AED's sale and service.  I currently have 45+ AED's in service throughout our sports park and have not had any issues.  I would highly recommend Marelly for your AED needs.

I have worked with Marelly AEDs & First Aid on several different size AED Projects, include very large scale deployment projects. They are awesome to work with and take great care of their clients. They are quick to respond to any questions we have. I highly recommend letting them help implement and service your AED Program.

Eric M
Kansas City Power & Light

In my job I wear many hats and my time is important. So, it is refreshing to find a responsive and reliable company that I can call with the confidence in knowing they will deliver me a quality product at a fair price every time. Marelly is that kind of company!

Stanley Barker, CLCP
Whiteriver Valley Electric Cooperative, Inc.