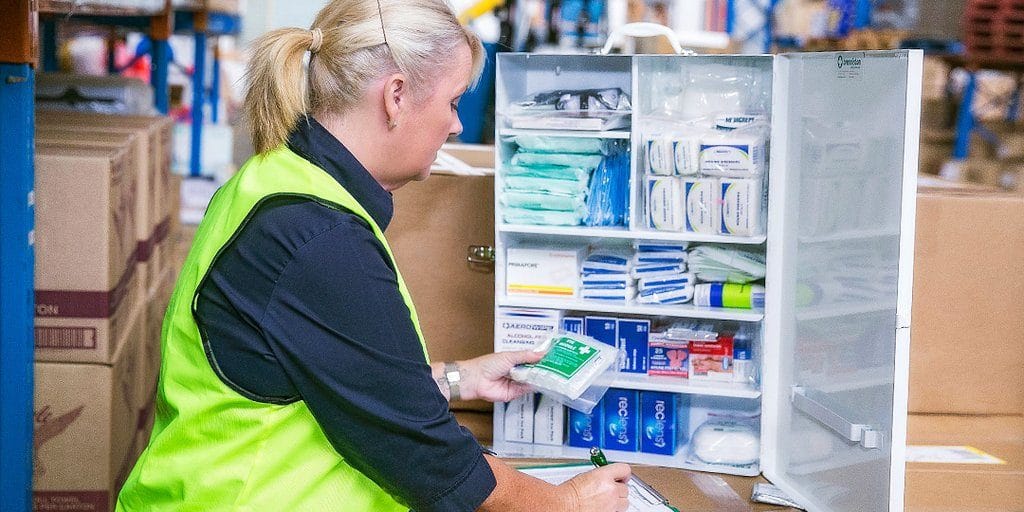 In the United States, the requirements for your workplace first aid kits are handed down by a pair of agencies called ANSI and OSHA. The purpose of the ANSI and OSHA standards is to assure that aid is available in the critical first minutes after an injury occurs in your workplace. Responding in a timely manner can mean the difference in life and death. Most companies know that they need to meet their ANSI and OSHA requirements, but they may not be familiar with the organizations behind them and what they do. This article will help you better understand ANSI, OSHA, and your company's first aid kit requirements.
ANSI vs OSHA — What is the difference?
ANSI (American National Standards Institute) is a private non-profit organization that creates voluntary consensus standards. Their primary mission is to set standards that create a level of safety across an entire industry. ANSI itself does not have any enforcement power.
OSHA (Occupational Safety and Health Administration) is a government agency that is charged with assuring safe working conditions by setting and enforcing standards. OSHA can adopt ANSI's standards into law. When standards become law, they become enforceable.
What kind of first aid kit you will need is determined by your workplace variables. Consider your worksite locations, potential hazards, number of visitors and employees, level of training, and access to professional medical emergency services. These will help you determine what kit Type and Class ANSI recommends for your workplace.
Kit type describes the type of first aid kit container needed, where it should be located, and whether or not it should be portable. The following list of 4 kit types is created directly from the ANSI website. ANSI/ISEA Z308.1-2015 specifies the containers for first aid kits as follows:
Type I
Type I first aid kits are to be used in stationary, indoor settings. Therefore, they are generally not intended to be portable, and they are found in a mounted, fixed position. Rough handling and environmental factors are intended to be minimal.
Type II
Type II first aid kits are meant for portable use indoors. The potential for damage to kit supplies is minimal.
Type III
Type III first aid kits are meant for portable use in mobile, indoor, and/or outdoor settings. The damage of kit supplies is not probable. These kits have a water-resistant seal, and they can be mounted in a fixed position.
Type IV
Type IV first aid kits are intended for portable use in mobile industries and/or outdoor settings. Potential damage to kit supplies is significant, due to environmental factors and rough handling. These kits have the means to be mounted. Because of their risky environments, Type IV kits need to meet the performance guidelines for corrosion, moisture, and impact resistance laid out in ANSI/ISEA Z308.1-2015.
While the kit Type determines the kind of container, location, and portability needed for your first aid kit, the contents required depends on the kit's Class. Guidelines for First Aid Kit Class are also set by ANSI. ANSI currently defines 2 Classes for workplace first aid kits, Class A and Class B:
Class A
Class A Kits are intended for use in common workplace environments. Examples of items that should be included but not limited to are:
Bandages

Adhesive Tape

Antiseptic

Eye Wash

Hand Sanitizer
Class B
Class B Kits are intended for use by more complex, populated, or higher risk environments. Examples of items that should be included but not limited to are:
A complete Class A kit

Additional quantities of class A items

Burn Dressing

Breathing Barrier

Analgesic (Oral)
It is in everyone's best interest — for your company, your employees and your visitors — to keep your workplace first aid kit in compliance. Failure to provide and maintain a first aid kit that meets the appropriate ANSI requirements for your company can lead to infractions or fines from OSHA. As the main federal agency charged with enforcing workplace health and safety legislation, OSHA defines whether a kit is required for your workplace, then refers to ANSI for first aid kit specifications and minimum contents requirements.
If you are confused about your first aid requirements or need help managing your company's health and safety programs, Marelly can help take that extra burden off of your shoulders. We are knowledgeable and experienced, always professional, and dedicated to quality customer service.