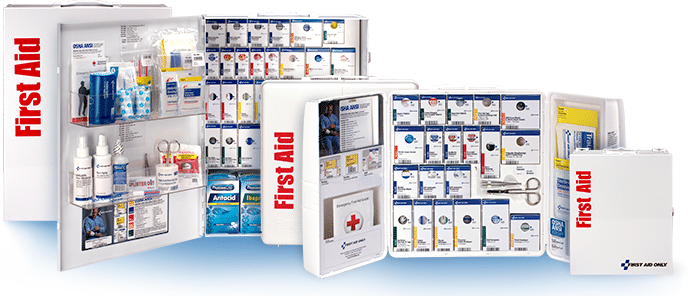 Is your First Aid kit quietly "bleeding" your safety budget?
Let's be real here… Managing First Aid cabinets and supplies is not exactly fun for most people. In fact, many of our clients, prior to using our First Aid products and services have told us it is a downright nuisance. We understand how most people feel about maintaining first aid supplies. The general attitude is "First Aid is just another requirement and it does not make us money." Let's look at the reasons why First Aid supply management has this reputation. 
OSHA says you have to.
A lot of it has to do with the simple fact that properly maintaining a First Aid kit is required by OSHA. Because it is required and regulated, there may be an increased sense of pressure or urgency that makes the experience more stressful.
ANSI tells you how.
ANSI lays out the minimum recommended requirements for what you should have in your First Aid kit based on workplace and environmental factors. Kits come in different types (I, II, III, and IV) and classes (A & B) based on those requirements. 
It costs you money.
Keeping your First Aid cabinet up to date doesn't just take time and attention, it also costs money. Since supplies expire and need to be restocked and replenished over time, First Aid is a recurring expense that shows up again and again and again.
You (hopefully) don't see the benefit.
When expenses bring shiny new toys to the office or drive a bump in sales, they are easier to accept. With First Aid, the best case scenario is seeing nothing but the cabinet on the wall and the expense on your balance sheet.
Are You Being Overcharged for First Aid?
Purchasing First Aid supplies and services is an important decision to make, and one that can often be costly. Since you will be relying on the First Aid that you end up choosing, you will want to make sure you are getting a good product while also not paying an arm and a leg. Just because it's a required cost doesn't mean you can't keep a close eye on the price tag and the quality of supplies and services you receive from your vendor.
Know Where Your Money is Going
Many safety managers choose van services to routinely deliver First Aid supplies and keep their First Aid kits in compliance with OSHA's specifications. These services can be very convenient and effective, but they also have a spotty reputation for overcharging, "ghost filling", or otherwise cheating their customers, often due to internal pressures, quotas, and incentives. People don't always think about what they are paying, they just pay it because they know they need to for compliance, and because it is the right thing to do to keep people safe. Many are overpaying without even realizing it.
Instead of just going along with what your First Aid sales rep recommends, you can protect yourself by making sure you take into account not only the price, but the value you are getting as well. Many customers simply pay their bill every month without thinking much about it or conducting quality checks. If you are concerned that you might be overpaying for First Aid compliance and supplies, Marelly can assist you with an audit of your First Aid expenses, assets, and compliance status. Contact us to get started.
Why Choose Marelly for First Aid Compliance & Supplies?
One easy way to gain the confidence that you are paying the right price for your First Aid program is to choose Marelly AEDs & First Aid as your supply vendor, compliance manager, and training partner. Marelly provides all the best First Aid supplies, First Aid kits, smart compliance cabinets, and more lifesaving products at low prices. We also provide a full range of sales, services, compliance programs and training with integrity. 
Marelly is not a superstore or a mega-corporation. We are a focused, family-owned business that gives you the personal attention and quality customer service that you deserve. Contact us today and we will be delighted to work with you or your business for First Aid supply services, AED programs, or whatever else you need for health and safety compliance!
Stop getting cheated by your First Aid supply company! Contact Marelly to save money on First Aid supplies and compliance services.