WITH ZOLL'S PATENTED REALCPRHELP© TECHNOLOGY,
you can rest assured.
Marelly AEDs & First Aid is one of the largest and most successful distributors for ZOLL. Our extensive clientele and 17+ year relationship with ZOLL prove that. Our choice to exclusively sell ZOLL AED products stems from the belief that ZOLL offers the best AEDs on the market.
We operate under the premise of providing not only the best possible service, but the best possible product. The only way to practice what we preach is to exclusively sell ZOLL AEDs. We will still service other brands, but we exclusively sell ZOLL. We will also offer trade-ins so that you can have the very best technology on the market.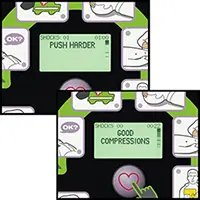 The ZOLL AED+PLUS® is the ONLY AED that:
Uses a one-piece pad for easy placement that lasts 5 years!
Uses over-the-counter consumer batteries (say goodbye to expensive battery packs!)
Helps responders through ALL SCA events! (even the victims that don't need a shock)
Provides realcprhelp© technology providing you with real-time feedback/coaching on your CPR administration.
Only half the victims of sudden cardiac arrest will need a shock, but ALL victims will require high-quality CPR to survive. Don't take a half measure, buy an AED that helps responders through all SCA events. Buy a ZOLL AED+Plus™ or 
contact Marelly
 to trade in your old AED technology today.